Farnell Newton & the Othership Connection – April 19, 2017 Whirled Pies – Eugene, Oregon
By Andy Goldfinger
Wednesday night I had the privilege of shooting photos and doing a little writing on a band fronted by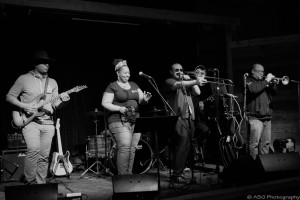 mad trumpeter Farnell Newton along with the ever-present Othership Connection.  If the name has a familiar ring to it, could be that among the myriad of artists that Farnell has had the opportunity to collaborate with Bootsy Collins is at the forefront, an original member of the Mothership of Funk.
Farnell has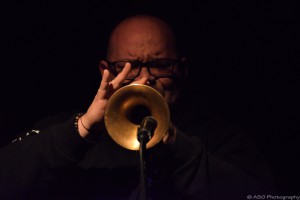 established himself as one of the most versatile musicians in the arena and that would explain the pedigree from his short list of collaborators that include Stevie Wonder, Ronald Isley, Cee-Lo Green, Karl Denson, Gladys Knight, George Duke, Lalah Hathaway, Chaka Khan, Bootsy Collins, Lettuce, Earth, Wind and Fire just to name a few.  his sense of love for the music, his band, and the audience is clearly on display throughout the set.
With a dynamic sound reminiscent of the old funk mixed with a new and powerful sound the Othership Connection provides a groove of funkified proportions.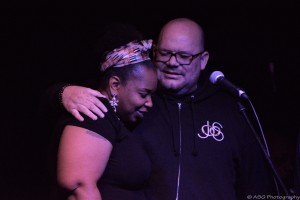 Some might call it a revitalization others a continuation, but regardless they are building a tremendous reputation as a band that can go all night, and Wednesday at Whirled Pies was no different.  They tore through a couple of Prince songs in preparation for their upcoming show in Portland Friday April 21st and closed the first set with Maceo's "Shakin With Everything You Got".  The range and sound of the band was exceptional.
The band?  Wow.  Guitarist Agyel Ptah – Hotep Marshall was just electric al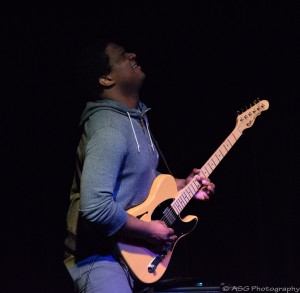 l night long with thoughtful soulful solos and an amazing rhythm that got those in attendance moving and grooving.  Couple that with drummer Tyronne Hendrix and bass player R.J. Reyes, the recipe was set, and the chefs were just cookin.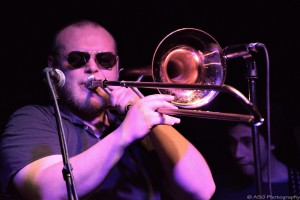 Kyle Molitor began playing trombone at 12 years old and is currently spending his time with one Bootsy Collins, Doo Doo Funk All-Stars, and the Rose City Horns.  He may be the youngest member of the band, but guitarist Agyel Ptah – Hotep Marshall brings an originality that melds funk and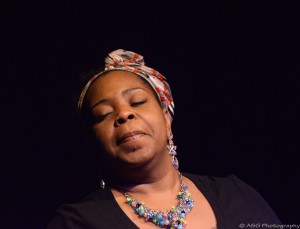 rock into a blissful funkination of sound and imagery.  On the vocals the incredible Arietta Ward, w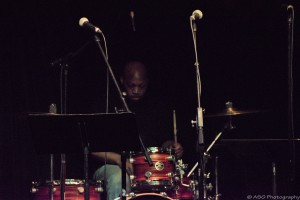 ho snag with passion and love.   Now back to the rhythm section.  Banging on the skins is drummer Tyrone Hendrix, one of the most sought after drummer's period, and Wednesday night was clear evidence as to why.   The bass was being manned by R.J. Reyes.  Wednesday was his first gig with the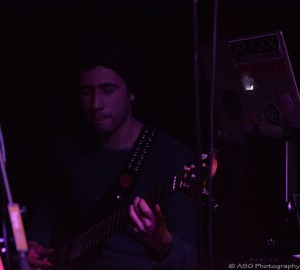 band and he just killed it.
With an album in the works the future looks limitless for this band.
I would also like to commend Whirled Pies on turning the downtown pie place in to an outstanding venue to see a show.  The sound is excellent and the place has pretty much everything you could want from a food and drinking perspective.  Cannot wait for the next show.  This is steadily becoming one of Eugene's premier venues for music.