Stick Figure at The Discovery Ventura , CA – March 11th 2016
By Sandy Krietzberg – Photos by Gia Krietzberg
The second leg of Stick Figure's Set In Stone tour took off in San Diego on March 10th with supporting acts Fortunate Youth and Raging Fyah. We were able to catch them for the third time on this tour the following night at The Discovery in Ventura, CA. This unique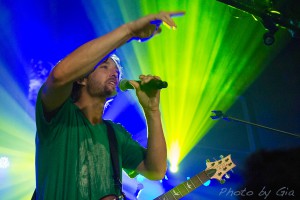 venue doubles as a bowling alley but is still a great place for an intimate show with an amazing sound system.
Joining the tour from Kingston, Jamaica is the roots reggae band Raging Fyah. Lead singer, Conroy Willis' dynamic vocals as well as the rest of the talented members in the band created a sound that was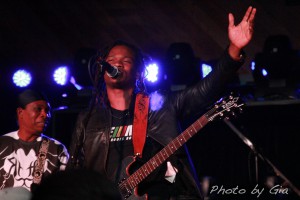 easily comparable to that of the actual album, if not better. Even though the band is mostly roots rock reggae, they are extremely versatile and are influenced by many different genres from Bob Marley and Peter Tosh to Maroon 5. Their main goal is they want to influence people with positive music and it definitely felt like they accomplished that by starting off the night right with easy listening and good vibes. Their performance was fresh and memorable.
Fortunate Youth came out shortly after starting their set with the song,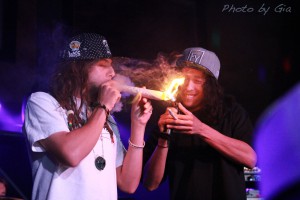 "Pass The Herb", which never fails to bring high energy and of course never fails to get the audience passing around the herb which usually ends up making it's way around the band too. They even had some of the guys from    We Should Smoke join them on stage for a song to light up a joint that seemed to be about as big as their faces. One thing that makes Fortunate Youth unique from most bands is how they often have the members switch instruments during their set. Travi Bongo who, needless to say, is usually is on bongos, had a killer guitar solo during the song, "One Love" and members Cory and Jered can also be seen jamming on guitar,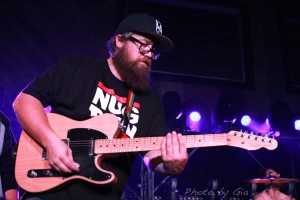 keys, or bass at different times in the set.
Promoting their newest album, Set In Stone, Stick Figure named their first headlining tour accordingly. As each year passes since lead singer, Scott, decided to start taking his music on tour, the band seems to be continuously growing, getting more talented, and getting more recognition while still playing shows that make you feel like you're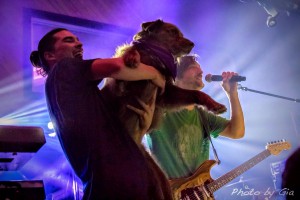 watching them jam in their living room with their tour dog, Cocoa, always close around. This show in particular they had special guest TJ O'Neil join them on stage for the song, "Weight of Sound", that he's featured on. Also, before closing out the night they had lead singer from Fortunate Youth, Dan Kelly, join them back on stage to add a verse to one of their songs. Stick Figure always does an amazing job of making the crowds feel like a part of the music during their sets and they are never shy to chat after a show.
It is a great thing that's happening when big Cali reggae bands, like Stick Figure and Fortunate Youth, bring Jamaican reggae bands, like Raging Fyah,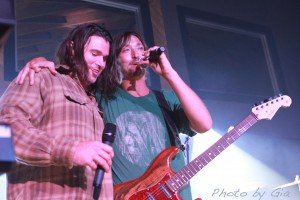 on tour with them. They are introducing a new legion of reggae fans to music they otherwise might not have ever seen or heard of before and it's spreading only love. All three of these bands share the common intention of trying to make this world a better place and spreading positive messages with their music. Each band will also be performing at the 7th annual California Roots Festival this year. For more information, tickets, and music, visit each of their websites: