Rebelution in Avila Beach, CA – August 14th 2016
By Sandy Krietzberg – Photos by Gia Krietzberg
Earlier this summer Rebelution released their fifth studio album, Falling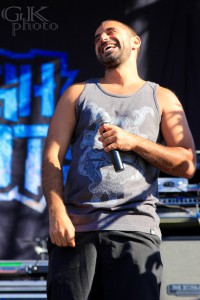 Into Place, that rocked iTunes by debuting in the Top 10 overall charts and ranked #32 in the Billboard Top 200. The boys just finished up their Falling Into Place Summer Tour, which was just as successful as their new album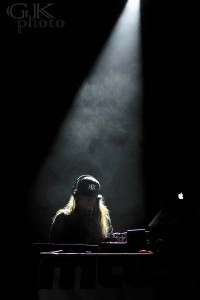 . The tour package included performances by Through The Roots, Stick Figure, The Green alongside J Boog, and live painting by the talented Chris Morphis and Ania Amador. We were able to catch a night of the tour as they passed through the beaches of Avila in San Luis Obispo.
The stage was set up right in front of the water for a perfect ocean backdrop. Through The Roots started out the show with a high energy set that created a great tone for the rest o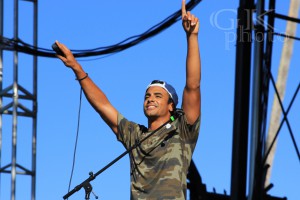 f the night. Evan Hawkins' smooth vocals makes for easy listening and adds a nice dynamic to their reggae rock sounds. Rebelution lead vocalist, Eric Rachmany, even came out to join the band for their song, "Bear With Me".
Soon after Through The Roots, Cocoa the tour dog took the stage which always means Stick Figure is not far behind. The band rocked the house by playing many songs off their newest album, Set In Stone, and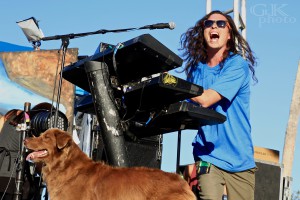 other hits such as "Weight of Sound" and "Shelter". Friend of the band, TJ O'Neill also joined them on stage for a couple songs. Stick Figure's contagious good vibes always leave the crowd smiling ear to ear.
Just as the sun was setting behind the ocean, The Green and J Boog took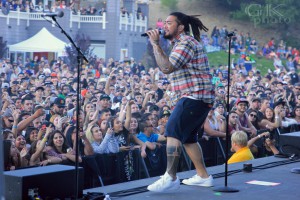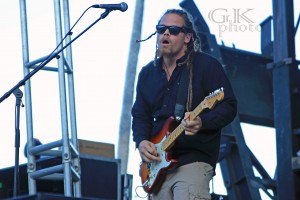 the stage. The two Hawaiian artists collaborated to create a set that combined both their feel-good Hawaiian reggae music yet still complimenting each other so well one wouldn't even know they were two different artists. These musicians effortlessly got the crowd hyped as they finished their set with J Boog's hit song, "Let's Do It Again".
And finally, after much anticipation, the powerhouse band that is Rebelution came out with a str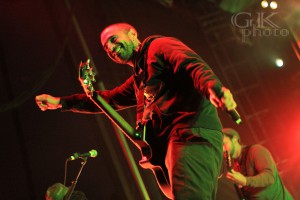 ong intro that led into their song and fan favorite, "Attention Span". Rebelution is a band that continuously comes out strong and keeps the vibes high until the very last song. Their energy could be felt from all corners of the large venue, and even into the parking lot. The enormous waves of people in the crowd singing along to every word could be heard almost as well as the band. Rebelution is a band that sounds tight every single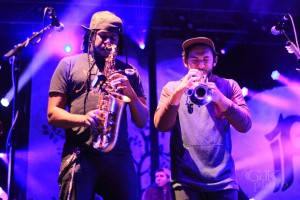 time and their stage presence is a force to be reckoned with. Even though this tour is over, the band already has dates out for the second leg of their Falling Into Place Tour. Check out their website for new music and tour dates near you: http://www.rebelutionmusic.com