Jonny Lang – November 8, 2015 McDonald Theater Eugene, Oregon
By Andy Goldfinger
The first time I saw Jonny Lang he was either 16 or 17 years old, and even then it was just one of those are you kidding me kind of shows. In the years that have followed it seems every t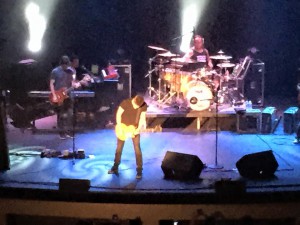 ime I see him it is one of those, are you kidding me shows. The show he did a the McDonald Theater in Eugene, which by the way is an unreal venue to see a show, but he left many in the crowd speechless. I myself struggled to come up with rods to describe how effortless he played. I was in the back of the bottom floor watching the show and started talking to one of the locals and he really summed it up best. He said right before Stevie Ray Vaughn died Eric Clapton said he was playing at a level where he didn't have to think about where he was going next. And that is how Jonny Lang played on this night. That was it.
You could see he was just effortlessly playing and it just came out without thought or provocation. Not to mention the fact that he looks exactly the same as when I first saw him and seem to have gotten much much older. Even the obligatory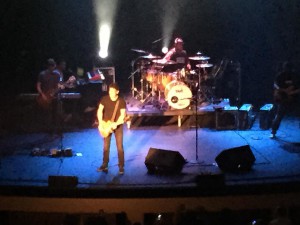 Rack em Up was profoundly smooth. While his set was a little short by Eugene standards he had the whole place up and dancing at several points during the hour and 45 minute set. I was surprised to see a couple of articles recently written about Lang that were less than flattering.  It seems some in the blues community feel he has been less than a true blues man. I couldn't imagine anyone finding anything less than effusive to describe his performance in Eugene this past Sunday.
His most recent album, his seventh, was the first album done on his own label, and featured his touring band drummer Barry Alexander, bassist James A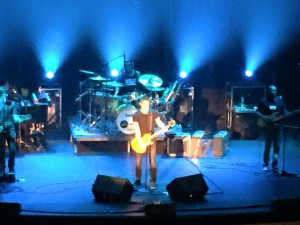 nton, rhythm guitarist Akil Thompson, keyboardist Dwan Hill and background vocalist Missi Hale. Keyboardist Dwan Hill was particularly impressive in Sunday night's performance regularly trading licks with Lang. Anyone who thinks he has gotten soft or isn't singing the blues, whoa Nellie.
A really nice surprise was the opening band Runaway Saints, currently based out of Los Angeles. They had what was a pretty full theater for an opening band and the place just hoppin. With a very tribal sound the three piece band it was hard for even the stiffest of patrons not to get up and move. The trio of Johnny Gates, Jamie Jarbeau, Matt Scanlon delivered an inspired performance as it was the end of their tour of duty with Jonny Lang.  Jonny, however was not their first rodeo they have opened for Rod Stewart among others. Originally from Nashville, they now make their home in Los Angeles and they told me they often play the Troubadour and the Mint among other L.A. area venues.   Keep your eyes peeled for them. And expect to hear their music on the Flying Eye Radio Network.