NAMM 2016 – January 21-24, Anaheim California
By Sandy Krietzberg – Photos by Gia Krietzberg

The National Association of Music Merchants (NAMM) is one of the largest and most successful music product trade-shows ever to exist. This convention is easily one of the m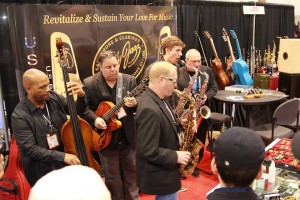 ost anticipated events by all musicians and music enthusiasts alike. People from all over the globe gather at the Anaheim Convention Center every year to promote their product or check out the endless venues with just about every piece of music technology one can imagine.
This was my first year attending The NAMM Show and to say the least it was quite overwhelming. Crowds of people filled the massive conventio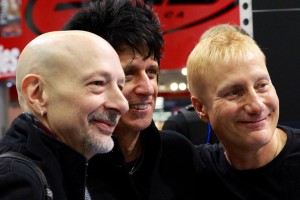 n center, each person in a hurry to get to their next performance or exhibit.   We were fortunate enough to find some friendly faces at the Dixon exhibit. Journey's drummer, Steve Smith stopped by for a bit. Also stopping by was Tony Pia, drummer for The Doobie Brothers. He attends NAMM every year to support his signature model of drums made by Dixon. He shared that coming to NAMM year after year benefits him because "when the company that makes his product is doing well, that it's always good for h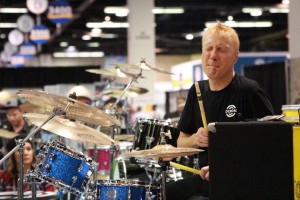 im too". At the same exhibit, we caught a short performance by Gregg Bissonette on drums. Bissonette has played side-by-side with a variety of well-known musicians like David Lee Roth, but he is most currently known for playing drums for Ringo Starr & His All-Starr Band. Gregg is an incredibly genuine person and was also gracious enough to chat for a while after his set, sign autographs, and take a selfie.
While walking through NAMM, just about everywhere you turn there are unique music products made to look like pieces of artwork, and even more unique people. People-watching was almost the most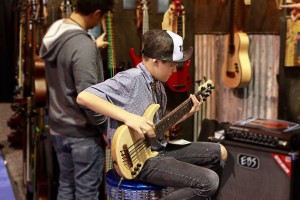 interesting part of the whole experience. There were little kids jamming on drums and shredding guitars, some people painted their whole bodies, and it was not uncommon to see numerous famous musicians walking around. While checking out the Ernie Ball exhibit, I briefly ran into Micah Brown of Iration and Shay of Seedless, both hugely influential bands on the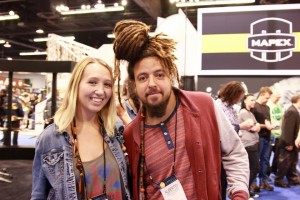 reggae scene. Before ending the day, we caught a performance from Pedro Da Silva, a composer and guitarist from Portugal, who was playing on a Godin guitar to support their brand. On of the most inspirational performances I have ever witnessed.
Every year exhibitors at NAMM are coming out with new technologies and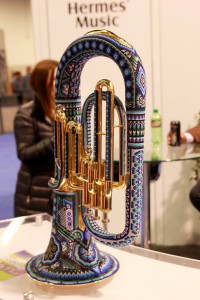 musicians from all genres come to support and play, making each year completely different from the last. This incredible trade show displays the best of the best products in the music industry. If you couldn't make it to Anaheim for this year's convention, there is also a Summer NAMM held in Nashville, Tennessee every year.