Ladysmith Black Mambazo – January 26, 2016 WOW Hall Eugene, Oregon
By Andy Goldfinger
Many of you may have heard of Ladysmith Black Mambazo through Paul Simon's Graceland album from 1986, but the group had its beginnings in the early 1960s.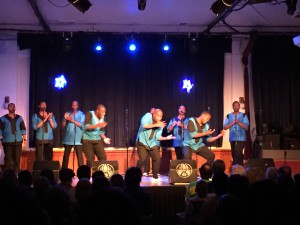 Their first album Amabutho was released in 1973, and this along with many subsequent albums went on to be certified gold and platinum. Amabutho was the first album by a group from South Africa to receive a gold record.
The group was formed by Joseph Shabalala in 1964 after a mess of recurring dreams in his sleep, featuring a choir singing in perfect harmony. Using his brothers and cousins he then set out to create the vocal sound that we now hear today. Their historical significance cannot be overstated. From their groundbreaking albums to escorting Nelson Mandela to accept the Noble Peace prize Ladysmith has been a force for world peace.
The show at the WOW Hall in Eugene was a surreal experience. The WOW had set a portion of the venue for seating this time, and as always the atmosphere at the WOW Hall is really a wonderful experience. There was plenty of room to stand and it was well worth it.  Having seen several artists there the sound again was truly exceptional.  The energy created by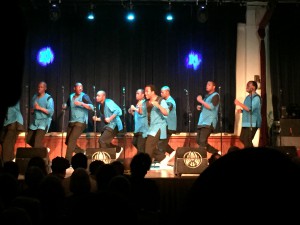 Ladysmith Black Mambazo using only their voices as instruments was truly mesmerizing. I cannot imagine there were very many people who could understand what was being sung, but that did not matter one bit. The pure harmonies that emanated from those men was incredible. It was so moving and emotional, you could feel the audience just hanging on every note.
Their versions of "Diamonds on the Soles of Her Shoes" and "Homeless" from the Graceland album were astounding. Vocal harmonies so pure and the expressiveness of their faces was infectious throughout the crowd. With two members that have been in the group over 40 years and 4 sons of founder Joseph Shabalala the lineage has been carried on without doubt. Two encores closed the show with the final song being an inspiring version of "Amazing Grace" that once again demonstrates why people like Paul Simon, Melissa Etheridge, Natalie Merchant, Emmylou Harris, and Taj Mahal want to record with them.
Their most recent album "Live: Singing For Peace Around The World" won the Grammy Award for Best World Music Album in 2013. In January 2014,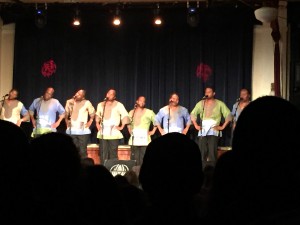 Ladysmith released Always With Us, as a tribute to Joseph Shabalala's deceased wife. They are currently recording an album of American gospel songs, which is rumored to have a well known American singer joining them on the record. They are also recording a follow-up recording to their recent Grammy-winning CD, to be called Songs of Peace & Love for Kids & Parents Around the World.
Their music can be heard regularly on the Flying Eye Radio Network's Music Gumbo (gumbo.flyingeye.com) which airs each and every Friday. It's a podcast, you can listen anytime.