The Wood Brothers – January 29, 2016 McDonald Theater Eugene, Oregon
By Andy Goldfinger
The Wood Brothers made their way through Eugene, Oregon not too long ago. They are an American folk band consisting of brothers Chris (Upright Bass) and Oliver Wood (Acoustic and electric guitars), as well as multi-instrumentalist Jano Rix. The majestic McDonald Theater was packed to eth gills with folks eager to hear the boys play the old classics as we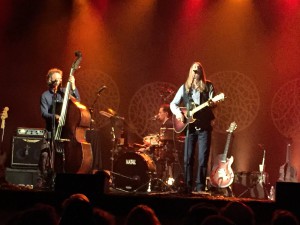 ll as the new songs from the "Paradise" album, and they did not disappoint.
The new album 'Paradise' is an album that is clearly the band's most sophisticated work to date. It is also their most grooving, with Chris Wood playing electric bass on several tracks for the first time. The album was recorded at Dan Auerbach's (Black Keys) Easy Eye studio in Nashville, and clearly captures the latest chapter in the ongoing evolution of this great band.
The show opened with a rousing version of Trouble before going into the title cut from the Muse album. The show was a wonderful mix of older songs and new songs fro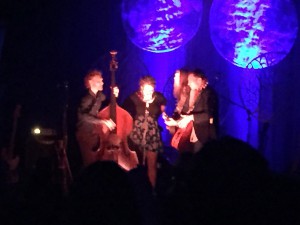 m the Paradise album. New songs like "Snake Eyes", "Heartbreak Lullaby", "River of Sin" mixed in with vintage songs like "Raindrop", "Postcards From Hell" and "Pay Attention" made for an evening of immense satisfaction.
The band was in rare form, and bringing up opening artist Liz Vice just electrified the crowd. Her voice was such a tremendous accompaniment to the boys playing. The crowd could not get enough and was howling for her to stay on the stage. The evening could not have a more fitting end than the uplifting and grooving "Honey Jar" sending the crowd happily into the streets of Eugene.