The Waterboys – Fonda Theater 5/13/15 Los Angeles, CA
By Andy Goldfinger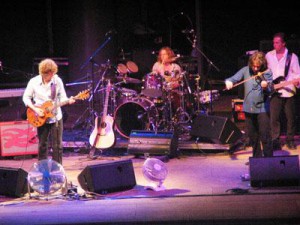 May 13, 2015 – I had the good fortune to see the Waterboys this past Wednesday at the Fonda Theater in Hollywood (Thank you Goldenvoice).  While I am familiar with their music from 30 years ago I admit I have not kept up with the band too much.  It was not until a very good friend passed away last year that I began to revisit the band's music because of his love for the band, and as is my way I was playing tributes on the Flying Eye, and the Waterboys became a new staple.
Their music has been evolving unbeknownst to me.  Mike Scott has kept things going in a fantastic way.  If you recall the early sounds of the band it was heavily flavored with the an Irish sound, that has now given way to a much more wise ranging sound.  The current band, which boasts an alumni of over 70 musicians, is lead by founder and clear front man Mike Scott – vocals, guitar, piano, longtime member Steve Wickham – electric fiddle, mandolin, Ralph Salmins – drums, Paul Brown – keyboards, backing vocals, Zach Ernst – guitar and David Hood – bass.  The band was quite tight and the crowd were clearly there for them, with many in the crowd actually dancing, a phenomenon rarely seen.
In January 2015 the album Modern Blues was released and they ran through several cuts including "Still a Freak" and "I Can See Elvis", both of which were featured just this week on Music Gumbo and Monday Music Massage (http://archive.flyingeye.com).  The new music is excellent and offers a wide range of sounds which is something I personally find appealing.  As an added bonus the opening band Connor Kennedy & the Minstrel was outstanding.  They have a album of live music which I managed to commandeer.  You will be able to hear their music in the upcoming weeks here on the Flying Eye Radio Network.
The Flying Eye archive is always at your disposal (http://archive.flyingeye.com)